HMM-BASED SPEECH SYNTHESIS ADAPTATION USING NOISY DATA:
ANALYSIS AND EVALUATION METHODS
Reima Karhila, Ulpu Remes and Mikko Kurimo
Department of Information and Computer Science, Aalto University School of Science, Finland
The paper submitted to ICASSP-13 investigated the effects of noise in HMM-based speech synthesis. The research was done by artificially corrupting clean speech with noise from NOISEX-92 database and using the noisy data to a clean average voice to target speakers.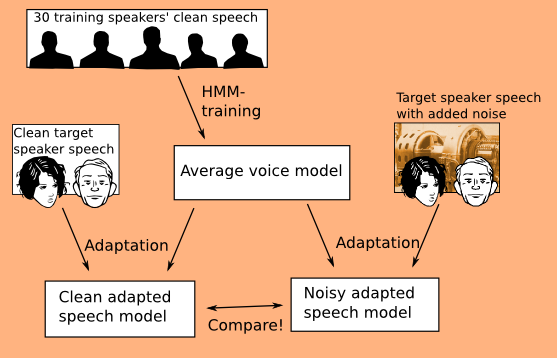 Below you will find samples used in the work.
The listening test developed in this work can be found here.
Male speaker
| Noise condition | Training sample | Vocoder resynthesised sample | HTS-synthesised sample |
| --- | --- | --- | --- |
| Clean | | | |
| Babble SNR 20 | | | |
| Babble SNR 10 | | | |
| Babble SNR 5 | | | |
| Factory SNR 10 | | | |
| Factory SNR 5 | | | |
| Machine gun SNR 0 | | | |
| Enhanced Babble SNR 20 | | | |
| Enhanced Babble SNR 10 | | | |
| Enhanced Babble SNR 5 | | | |
| Enhanced Factory SNR 10 | | | |
| Enhanced Factory SNR 5 | | | |
Female speaker
| Noise condition | Training sample | Vocoder resynthesised sample | HTS-synthesised sample |
| --- | --- | --- | --- |
| Clean | | | |
| Babble SNR 20 | | | |
| Babble SNR 10 | | | |
| Babble SNR 5 | | | |
| Factory SNR 10 | | | |
| Factory SNR 5 | | | |
| Machine gun SNR 0 | | | |
| Enhanced Babble SNR 20 | | | |
| Enhanced Babble SNR 10 | | | |
| Enhanced Babble SNR 5 | | | |
| Enhanced Factory SNR 10 | | | |
| Enhanced Factory SNR 5 | | | |